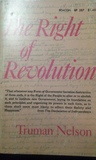 The Right of Revolution
by
Thomas Truman
My rating:
3 of 5 stars
Truman Nelson's work is relatively obscure today, but his belief in the right of revolution burns in the pages of this book. Written following the Newark riots, Nelson challenges the status quo by drawing on the Constitution's 'Right of Revolution' and the Fourteenth Amendment to justify armed action in response to inequality based on race. Reading this was timely, as I will soon read John Locke's
Second Treatise on Government
which was drawn upon in the framing of the Constitution. Nelson refers back to the American Revolution and the Civil War, arguing that civil rights for African Americans were paid little more than lip-service. The glacial pace of actualised civil rights meant that revolution was the only way to make these rights real. What is interesting is the historical 'process' of civil rights, with one step forward, two steps backward appearing again and again throughout history. When applied to the problems of today, it is clear that we are currently in the 'two steps backwards' phase. Nelson makes the story of republican liberal democracy come to life, and challenges the conservative republicanism that is all-pervasive in present times. That Nelson considered revolution to be the stuff of republican liberal democracy is obvious, but it is now a myth of antiquity, long lost in the fifty-odd years since his writing. This work makes me think that we are entering the final phase of the end of empire.
View all my reviews