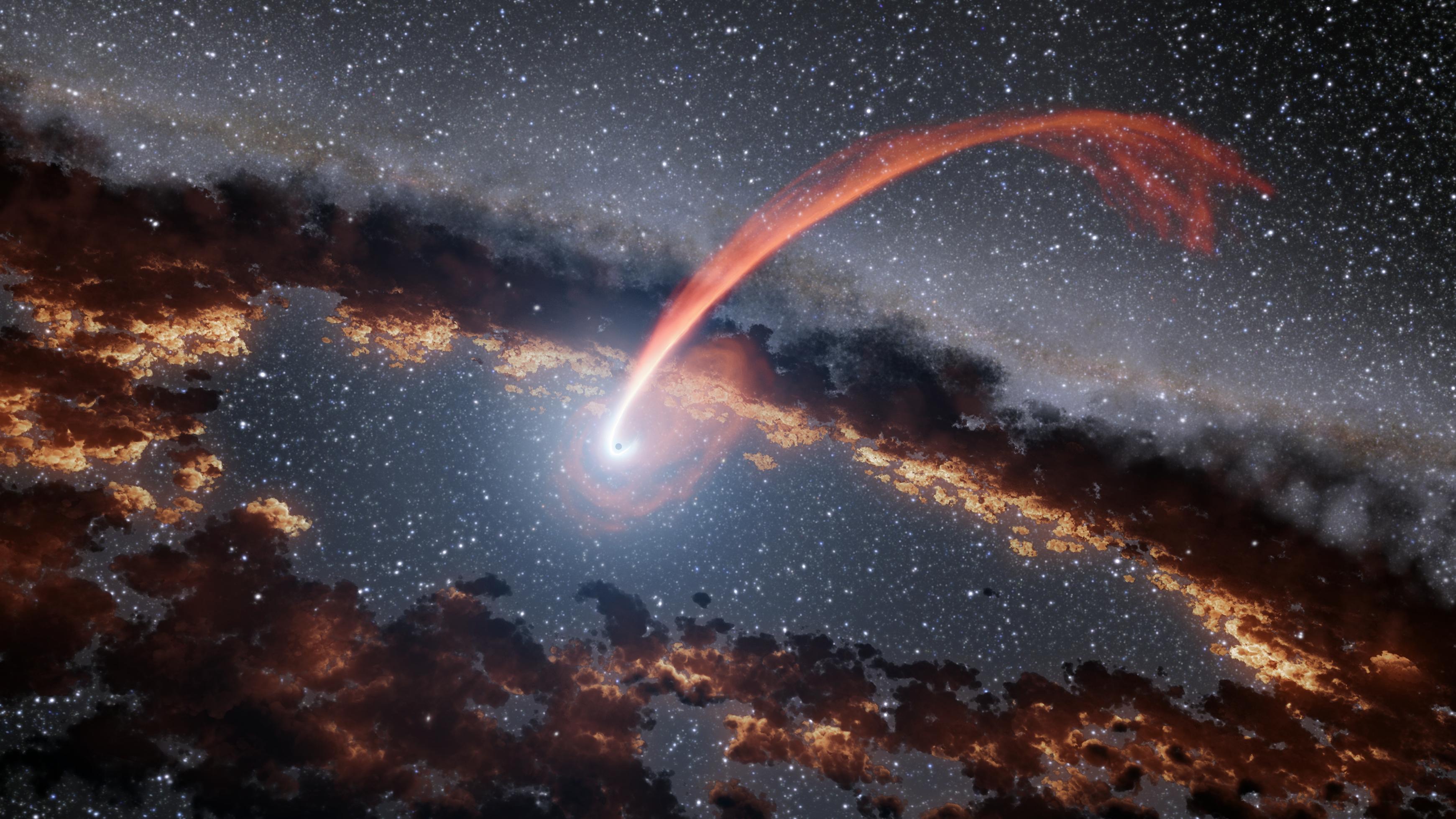 Infrared Echoes of a Black Hole Eating a Star (Illustration). Image Credit: NASA/JPL-Caltech
In Tune with the Infinite: Ralph Waldo Trine's Motivational Classic - Complete Original Text
by
Ralph Waldo Trine
My rating:
4 of 5 stars
This book reads like a series of sermons and draws on the "law of attraction". Apparently, it inspired Napoleon Hill's book
Think and Grow Rich
. In its modern form, it might be compared to
The Secret
, but Trine was an academic and his practical influence inspired the likes of Henry Ford to greatness.
This work is of the
New Thought Movement
which apparently developed from
Christian Science
. Members of the Christian Science church believe that illness can be cured by prayer alone and works best when not combined with medicine. Yet members of the congregation have been
in trouble with the law
for refusing to give their children medicine.
None of this is covered by Trine, but he too suggests that the ailments of the body are a result of poor living and can be cured through right living. When taken to the extreme, it seems that Trine's work is less helpful in a practical sense. However, Trine's work draws on the teachings of Jesus and his scholarly background is obvious. Trine states (p. 108):
It has been my aim to base nothing on the teachings of others, though they may be the teachings of those inspired.
Yet it is obvious that he was familiar with Stoicism and the work of
Ralph Waldo Emerson
. Trine's work is inspiring and I took copious notes. He suggests that all religions are based on a single truth and that it does not matter what religion one follows. He covers a lot of ground, including pedagogy (p. 67):
The true teacher is one whose endeavour is to bring the one they teach to a true knowledge of himself and hence of his or her own interior powers, that they may become their own interpreter.
He discusses the creation of art, literature, and music and suggests that great works emanate from one who knows both God and oneself, echoing the ideas of the ancient Greek philosophers. Further, his work echoes
Nietzsche
's concept of
amor fati
(p. 52):
You must recognise, you must realise yourself as one with Infinite Spirit. God's will is then your will, your will is God's will, and with God all things are possible.
While I will not be taking Trine's medical advice any time soon, there is much to be gained from a reading of this work. Originally published in 1897, it is one of the earliest self-help books I have read. Although he was at one time a salesman, Trine was no charlatan - he was a philosopher and a teacher and lived to the age of 92, realising in many ways what he argues in this book.
This work amounts to a series of sermons based on some of the greatest philosophical ideas about the inner life. Although it is not referenced (although he occasionally refers to authors and prominent individuals), this is as good an overview of the inner life as I have read.
The big lesson I take away from this book is to have faith and to be cautious of the thought-word-action cycle so as to avoid self-fulfilling prophecies. But make sure you go to the doctor if you get sick.