Lou Andreas-Salomé with (from left) her husband Friedrich Karl Andreas, the architect August Endell and Rainer Maria Rilke in a summer house near Munich, 1897. Public Domain via Wikimedia.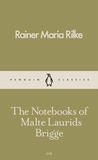 The Notebooks of Malte Laurids Brigge
by
Rainer Maria Rilke
My rating:
3 of 5 stars
This work is often regarded as the first 'modernist' novel. I find it hard to place. As far as genre is concerned, it is not quite Finnegan's Wake, that Rilke was a poet does not make this like a Bukowski novel, nor is it a work of non-fiction in the vein of Rabindranath Tagore. I enjoyed the work, but usually I write about my reading as soon as I am finished. I finished this work late last night and I am still trying to work out what happened! The Notebooks read just like notebooks. But in the first half or so, one reads about a child born into privilege at a time when the privileged classes are losing their grip. One reads about infatuation, love, wonder, ghosts. Then in the second half, it becomes something of an historical rant. Not as one might find in a novel where historical persons and events have been used as raw material for fiction, but where you are reading a fiction that is discussing historical events. This version includes end notes to the historical figures and events and highlights parts of the work that originated from Rilke's personal experiences. For example, Rilke witnessed a man with St Vitus' dance (Sydenham's chorea) who is captured in the notebooks; and his own experiences as a child are recreated in the person of young Brigge. Such historical renderings were wonderful. I must admit to not having known anything of Rilke. But like all new things, now I see him everywhere - he influenced James Joyce, Friedrich Nietzsche, Jean-Paul Sartre, and many others. Rilke seems obsessed with death, but he does it so well (pp. 5-6):
[The death of a poor person] is of course a banal one, with neither pomp nor circumstance. They are happy to find one that more or less fits. They don't mind if it's a little too large, because they can always grow into it. But it's bothersome if the front won't do up or it's tight at the throat.
I enjoyed reading this work without an introduction. If I could compare the work to anyone, it would be closest to Kafka, but without the sense of plot or chronology. And without an overblown introduction, it leaves the reader to "come to terms" with the author, as Mortimer Adler would say. But I doubt that many would find it easy to come to terms with Rilke. This might best be done with his poetry.
View all my reviews